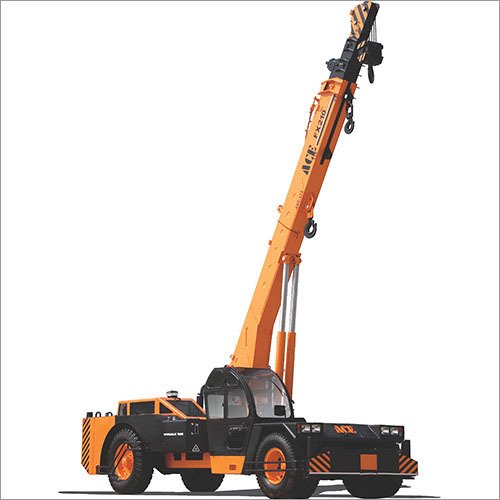 FX 210 NextGen Cranes
Product Description
With an impressive record of growth in the industry, we have developed ourselves as the most promising manufacturer and supplier of FX 210 NextGen Cranes. These cranes have specious & well laid out rear deck for storing lifting tackles. Offered cranes play an important part in constructing houses, buildings and cities. FX 210 NextGen Cranes are self-propelled cranes mounted on an undercarriage with four rubber tires. Clients can avail our cranes in different power specifications as per their requirements.

FX-210 is known for its 20 tones of lifting capacity, 2200 rpm speed, around 8.2 meters of turning radius of its steering and up to 35 km travelling speed on metalled ground. This crane uses advanced electrical system with 24 V negative earth wire. Its hoist section is managed by rope tensioner and hydraulically driven motor that enables it to attain 50 meters of hoist lifting speed in every minute. This 17300 kg material lifting device has precisely designed front mounted cabin which is furnished with fan and front visibility arrangement. Its three part hydraulically controlled telescopic boom can cover up to 11.6 meters of height by extending itself. The crane has 350 mm ground clearance level for its trouble free driving on irregular ground.
Design Details:

FX-210 version of pick and move crane is powered by water cooled Ashoke Leyland diesel engine. The steering section of this crane is featured with 40 degree steering navigation arrangement. This section is equipped with two double acting hydraulic cylinders and orbitrol. Synchromesh type transmission section with reverse and forward movement arrangement ensures consistent performance of this crane. The design of this lifting system also includes rear drive installed on leaf springs and front axle fitted on its chassis, hydraulic clutch, relief valve and central pump equipped hydraulic section, parking brake and dual circuit brake. Front outrigger is offered as its optional feature for providing extra security during higher lifting job.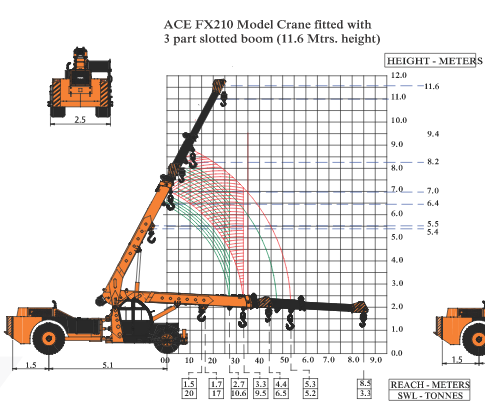 Specifications of FX 210 NextGen Cranes:


Lifting Capacity
(Free on wheels)




20 Tonnes


Engine



Ashok Leyland, 4 Cylinder, Water Cooled Diesel Engine




Rated Power

101 hp at 2200 RPM



Steering

Full power orbital with twin hydraulic double acting cylinders and 40deg articulation on either side.



Turning Radius

8.2 Meters(approx)



Transmission

Heavy duty, synchromesh with 8 forward and 2 reverse speeds and hi-low drive selector for creep speed



Axles

Front axle is rigidly mounted on the chassis. Rear drive axle is mounted with 2 nos. Leaf springs



Clutch

Heavy duty hydraulic clutch.



Top Speed

35 KMPH on even metaled Road (without load)




Gradeability


40% (unladen)




Hydraulic System

Gera/Intra Vane type main pump
Three spools control valve with built in relief Valve(Heavy duty)
Suction line has 100 mesh size strainer while return line is fitted with 25 micron full flow filter
Two double acting lift cylinders, two double acting steering cylinders and one double acting extension cylinder



Brakes

Dual Circuit Brakes

Fully air actuated brakes on front and rear wheels

Parking brake is pneumatically operated, fail safe type


Electrical System


24v, Negative earth




Telescopic Boom


Three part slotted boom with hydraulically operated & synchronized extensions (11.6 mtrs. height)



Tyres
Front
Rear
Wheel Base
Wheel Track




12x20-18 PR (4 NOS.)
14x25-20 PR (4 NOS.)
5100mm
Front 1880 mm
Rear 1850 mm




Hoist


Winch is driven by hydraulic motor and fitted with rope tensioner. Hoisting is provided through self adjusting hook block employing 6 falls of 13mm dia. Rope



Hoist Speed

50 Mtrs./Min (Line speed)




Boom Luffing
Range



-3deg. to +62deg.




Safety



Hose Failure protection
Audio Over hoisting Indication
Safety brakes on hoist
Self-adjusting hook block
Front and rear wheel guards



Standard Equipment

Front Outriggers
Front mounted fully enclosed wide view cabin
Rear view Camera
Front and rear work lights
Reflectors & rear view mirrors
Tool Kit
Cabin fan
Wiper motor
Gauges:

Water Temperature
Engine Oil Pressure
Fuel Gauge
RPM meter cum hour recorder
Air Pressure Gauge
Speedometer






Optional Equipment

Flyjib (Max Capacity : 1.25 Tonnes)
Spark arrestor
Safe load indicator/ LMI
Over Hoist hydraulic cutoff
Fire Extinguisher
Beacon rotating light
Drag Winch
Front and side Proximity Sensors
Cabin front glass protector
Helper/Slinger Seat
4 part slotted boom, 3 parts hydraulically operated & synchronized and 4th part power extended(18.3 mtrs. height)


Operating Weight

Front axle

Rear Axle

Total Weight




7200 Kgs

10100 Kgs.

17300 Kgs.