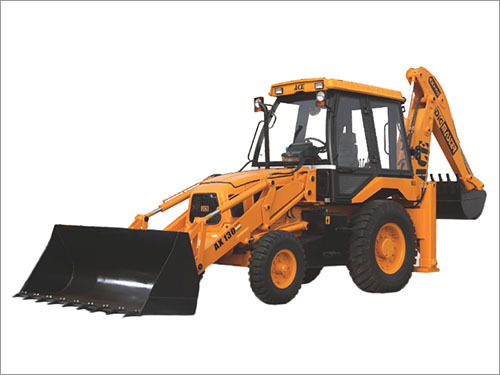 AX 130 Backhoe Loaders
Product Description
Being well-equipped with the latest technology machinery & equipments and supported by a team of professionals, we are engaged in manufacturing and supplying AX 130 Backhoe Loaders. These loaders have fully enclosed wide view cabin with easy entry and exit from the cabin. From material handling and truck loading, to general construction, our loaders can perform all jobs safely. AX 130 Backhoe Loaders are available for clients in different specifications as per their requirements.

AX 130 Backhoe Loader can be accessed in four wheel and two wheel drive options. This excavating and loading system uses 0.24 cubic meter excavator bucket and 1 cubic meter loader bucket. The highest digging depth of its excavator is 4.70 m and dumping angle of its loader is 42 dgree. Its turbo charged Kirloskar diesel engine with water cooled technology enables it to maintain 300 Nm torque at 1500 rpm speed. The storage capacity of its engine oil tank is 11 ltrs. This four cylinder engine is fuel efficient and is equipped with 160 ltrs oil storage tank. The enclosed structure of its ROPS operator cabin with large view facility promotes trouble free entrance and departure from it. Known for its 7500 kg operating weight, this loader is accessible with optional accessories like GPS based microprocessor, riper tooth and fire extinguisher to name a few.

Design Details:

The synchronized transmission section of AX 130 Backhoe Loader is designed with four reverse and four forward speed selection options via single switch based control system, gear box and 17 ltrs torque converter. Its axle part consists of pivoted front steer and drive axle and Carraro planetary drive equipped rear axle. The hydraulically controlled steering of this loader ensures its optimum steering control. Its hydraulic section contains central pump having 125 lpm flow capacity and 135 ltrs of hydraulic tank. The electrical system of this loader is powered by negative earth equipped 12 V battery and alternator.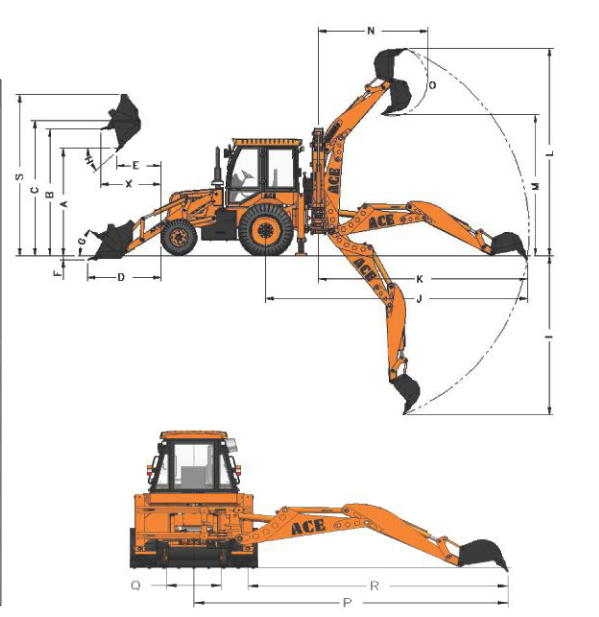 AX 130 Backhoe Loaders Details:


Engine



Kirloskar 4R1040T (bs lll) 4 cylinder, turbo charged. Water cooled diesel engine delivering 76.0 hp @ 2200 rpm and developing high torque with low fuel consumption or suitable equivalent engine




Max torque



300 Nm @ 1500 rpm




Transmission



Transmission Synchro shuttle transmission with torque converter and synchronised gear box. Single switch forward- reverse function for better loading application with 4 forward and 4 reverse speeds



Axle


Front : drive (in case of 4 wd) and steer axle. Centrally pivoted
Rear : rigid axle with carraro planetary drive.



Steering


Hydro-static steering for reliability and better control.



Optional Equipment


Fork Lift Attachment
Excavator bucket:0.06 cu.m./ 0.09 cu.m/0.12 cu.m/0.18 cu.m- and 0.30 cu.m.
6-in1 loader bucket
Ripper Tooth
Heavy Duty Tyres (14.00 x 25)
Fire extinguisher
Jaw Buket
Rock Breaker
Cabin with Fops



Brakes


Hydraulically actuated wet disc brakes at rear wheels with twin pedals in cabin for better control. Mechanically actuated disc brakes for parking.



Variant Model



4 Wheel Drive with Kirloskar 4R104oTA 4 cylinder. inline water cooled turbo charged engine delivering 96 HP @2200 rpm


Cabin


ROPS fully enclosed wide view cabin with easy entry and exit from the cabin




Hydraulic


Main pump flow:102 ipm
System relief pressure : 210 bar



Electrical


12V Battery with negative System earth and suitable alternator.




Operating weight


7500kgs