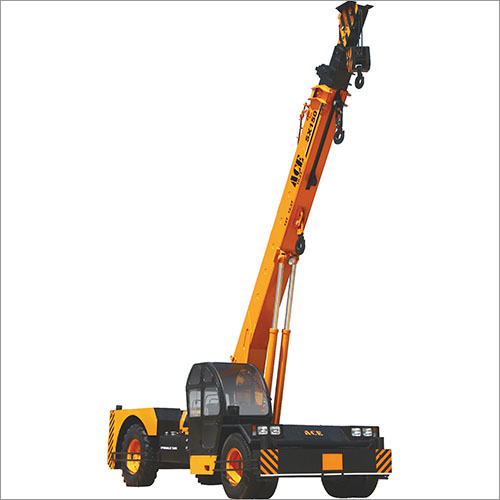 SX150 NextGen Cranes
Product Description
With the support of our professionals, we have achieved a reliable name as a leading manufacturer and supplier of SX150 NextGen Cranes. These cranes are perfect for use on constricted sites with a small ballast radius. We manufacture these cranes using high quality materials at our sophisticated production unit. SX150 NextGen Cranes can handle very heavy loads as well as enormous working heights. We offer these cranes at cost effective prices to clients.
SX-150 variant of pick and move crane is capable of travelling up to 29 km distance per hour without taking load. It is reckoned for its features like 14 tones of lifting ability, 49.5 BHP rated power at 2200 rpm, hydraulically controlled slotted telescopic boom with 11mtrs of height extending facility and ROPS enclosed cabin with high front visibility factor. It uses 8 ltrs diesel engine of ACE or KOEL brand. The spring actuated parking brake and single pedal regulated disc brakes promote its functional stability. With having 14200 kg operating weight, this lifting device deserves praise for its three points oscillation joint, wide rear deck and low centre of gravity based safety specifications.

Design Details:
SX-150 is offered with standard equipments like large front viewing windscreen and fan equipped front mounted ROPS cabin, work lights, view mirror, tool kit, gauges and reflector. Its sliding mesh based transmission section is featured with low and high speed selection arrangement. This crane has dry friction type cerametallic clutch with solid structure. Its hydraulic section consists of filter, three spool control valve, central pump and total five double acting cylinders. Its hook block and hydraulic motor regulated winch has 50 meters of lifting speed in every minute. Low c.g parameters of this crane are instrumental in maintaining balance of its motion. As part of its safety arrangement, this lifting system has hoist safety brake, hose malfunction prevention facility, wheel guards and over hoisting protection feature.