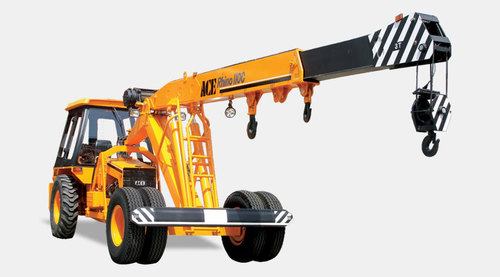 Rhino 110C Pick And Carry Cranes
Product Description
We are counted among the reputed business entities, engaged in manufacturing and supplying Rhino 110C Pick And Carry Cranes. These cranes have high ground clearance for easier rough terrain operation. These cranes are mainly used in construction sites for lifting and moving heavy materials. Well laid out and ergonomically placed controls & instrument cluster ensure ease of operation. Rhino 110C Pick And Carry Cranes are available for clients in different technical and power specifications as per their requirements. We offer these cranes at affordable prices.

Known for its 11 tones of lifting capacity, the Rhino 110C model of Pick & Carry Cranes boasts of having four cylinder diesel engine of Simpson brand, advanced transmission section with selectable speed parameters and dry friction type single clutch. This material handling system can attain up to 29 kmph load (without lifting load). Pneumatic brake, hydraulic steering with 55 degree navigation facility, gear pump controlled hydraulic section and 1800 mm stretchable telescopic boom are its main attributes. Hydraulic motor driven hoist of this crane can achieve 50 meters of lifting speed and it has hose re-routing arrangement. The electrical section of this lifting device consists of battery of 75 Amp/h specifications.


Design Details:

Featured with well built structure, the Rhino 110C is equipped with precisely developed operator's cabin with roll over protection structure. The cabin is furnished with curved windscreen with large viewing angle. Its control panel has instrument cluster for better user experience. The 400 mm ground clearance level enables this crane to travel on irregular land surface with ease. The full length chassis of this lifting device provides it required structural support. Its 5.5 meters of radius covering capacity within limited space and 9 meters of elevation height deserve special mention. This crane is protected against hoist malfunction and it is equipped with cylinder guard, audio based material overload and over lifting indicating arrangement.
Rhino 110C Pick And Carry Cranes Specifications:


Lifting capacity (free on wheels )

11 tons

Engine

Simpson`s S433(I) F1 (CEV BS-lll),4cylinder, water cooled diesel engine or suitable equivalent engine

Rated Power




48 BHP (36 KW ) at 2200 RPM.




Transmission




Sliding mesh with 6 forward and 2 reverse speeds and high-low range selector.




Clutch




single dry friction clutch plate.




Top speed




29 KMPH without load.




Steering




Hydraulically operated with 55°articulation on either side and turning radius of 5.5 mtrs (approx ) on outer rear wheels.




Brakes




Pneumatically assisted hydraulic brakes.Front and rear breaks are actuated through a single pedal.



Parking break is provided.




Hydraulic system




Gear/Intra vane type main pump.
Four spools control valve .
Suction line has 100 mesh size strainer while return line is fitted with 25 micron full filter.
Two double acting lift cylinders, two double acting steering cylinder and one double acting extension cylinder




Telescopic boom

4 part boom, 3 part hydraulically actuated and synchronized and 4th part power extended having self adjusting hook block.

Telescopic Time




10 Seconds.




Boom luffting

Range

Time




-1° to + 60°

20 seconds.




Hoist




Winch is driven by hydraulic motor Employing 4 falls of 13 mm dia rope.







Hoist speed

50 Meters./Min.(Line speed)


Electrical system





12V. Negative earth with 35 Amp. Alternator and 75 Amp hr.Battery.




Tyres

Front

Rear




11x20-16 PR(4 Nos.)

13x24-12 PR(2 Nos.




Fluid Capacities

Air cleaner

Engine

Fuel tank

Hydraulic tank

Transmission




0.75 ltrs

8 ltrs

45 ltrs

100 ltrs

34.ltrs




Safety

Audio overload indication.
Hose failure protection.
Audio over hoisting indication.
Safety brakes on hoist.
Cylinder guards.


Standard Equipment







ROPS fully enclosed wide view cabin.
Front tyre protector.
Front and rear work lights
Reflectors
Tool kit
Gauges:


Water temperature
Engine oil pressure
RPM meter cum hour recorder





Optional Equipment







Fly jib.
Steering wheel.
Slotted boom .
Spark arrester.
Over hoist hydraulic cutoff
Safe load indicator/LMI
City type double driver cabin.
Front mounted cabin.
Cain fan




Variant models




Rhino 110 (2300mm Extension stroke).

Rhino 110 T ( without winch ) .




Operating weight

8150 kgs