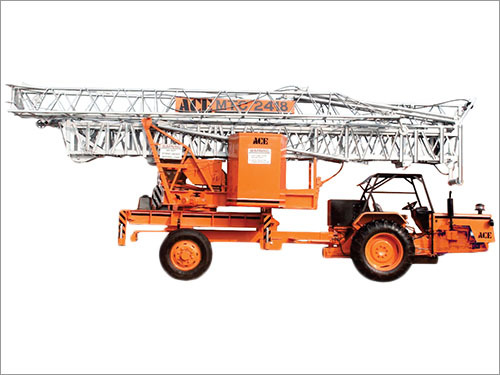 MTC 2418 Mobile Tower Crane
Product Description
We are efficiently meeting the requirements of numerous customers across the nation by manufacturing and supplying MTC 2418 Mobile Tower Crane. The cranes are mounted on a towable type trailer with compact dimension for easy transportation. Our expert manpower uses finest quality materials to manufacture these cranes. These cranes are ideal for using in building and bridge construction sites. The chassis design enables a short turning radius and easy positioning for the MTC 2418 Mobile Tower Crane We offer these cranes at market leading prices to clients.
Mobile Tower Crane – MTC 2418 with automatic driving mechanism can travel smoothly irrespective of terrain condition. With having up to 25 km travelling speed per hour, this crane uses differential lock system to cover irregular and rough ground surface. Managed by remote control pod, this single operator driven crane can be folded and erected automatically. Accurate load positioning facility of this material lifting system promotes close monitoring of its loading and unloading functions. The jib of this crane can be extended from 7.5 mtrs to 18 mtrs for lifting up to 1600 kg load. Its 1.5 hp trolley motor can attain up to 33 m speed per minute. The 7.5 hp hoisting motor can achieve 30 m maximum lifting speed per minute. The 2 hp slewing motor of this crane promotes its 1 rpm slewing. This crane requires 10,25 KVA electricity for its operation. Its four cylinder diesel engine with water cooled function enables it to attain up to 2300 rpm travelling speed. The load capacity of its rear axle is 8200 kg and its front axle can bear 5300 kg load.

Design Details:
Mobile Tower Crane – MTC 2418 is equipped with a central generator which is managed by its four cylinder engine with 49 horsepower. The power generated via its generator is used as power source for lighting system, vibrator and various types of electrical systems utilized on site. To maintain positional accuracy and to cover required turning radius, this crane uses hydraulically controlled steering section and articulated chassis. Its down and out type stabilizers are used for its ground clearance purpose. Different types of limit switches and circuit breaker have been incorporated into its design as its safety features.