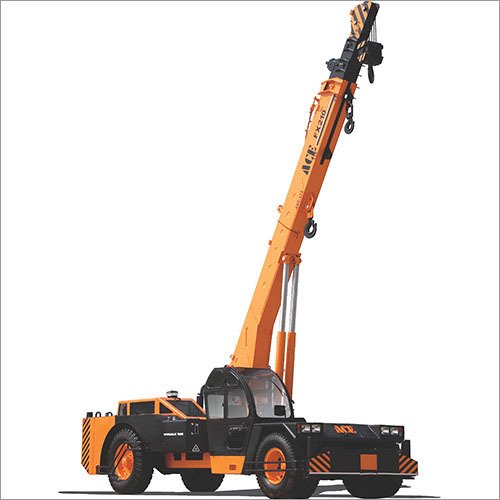 FX 210 NextGen Cranes
Product Code : FX 210
Product Description
With an impressive record of growth in the industry, we have developed ourselves as the most promising manufacturer and supplier of FX 210 NextGen Cranes. These cranes have specious & well laid out rear deck for storing lifting tackles. Offered cranes play an important part in constructing houses, buildings and cities. FX 210 NextGen Cranes are self-propelled cranes mounted on an undercarriage with four rubber tires. Clients can avail our cranes in different power specifications as per their requirements.
FX-210 is known for its 20 tones of lifting capacity, 2200 rpm speed, around 8.2 meters of turning radius of its steering and up to 35 km travelling speed on metalled ground. This crane uses advanced electrical system with 24 V negative earth wire. Its hoist section is managed by rope tensioner and hydraulically driven motor that enables it to attain 50 meters of hoist lifting speed in every minute. This 17300 kg material lifting device has precisely designed front mounted cabin which is furnished with fan and front visibility arrangement. Its three part hydraulically controlled telescopic boom can cover up to 11.6 meters of height by extending itself. The crane has 350 mm ground clearance level for its trouble free driving on irregular ground.

Design Details:
FX-210 version of pick and move crane is powered by water cooled Ashoke Leyland diesel engine. The steering section of this crane is featured with 40 degree steering navigation arrangement. This section is equipped with two double acting hydraulic cylinders and orbitrol. Synchromesh type transmission section with reverse and forward movement arrangement ensures consistent performance of this crane. The design of this lifting system also includes rear drive installed on leaf springs and front axle fitted on its chassis, hydraulic clutch, relief valve and central pump equipped hydraulic section, parking brake and dual circuit brake. Front outrigger is offered as its optional feature for providing extra security during higher lifting job.