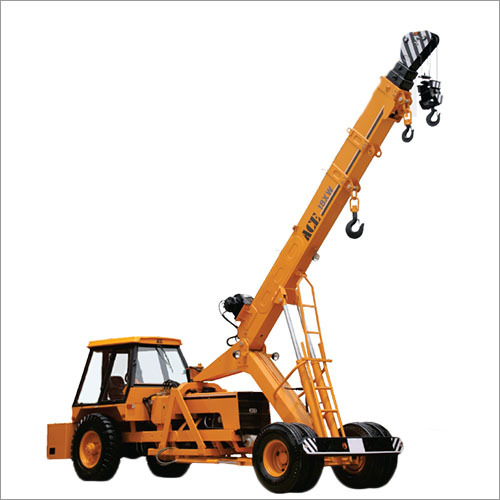 18XW Pick And Carry Cranes
Product Description
Having keen market understanding and vast experience in this field, we are engaged in manufacturing and supplying 18XW Pick And Carry Cranes. These cranes are well equipped with two section box type telescopic boom, welded together. Pneumatic hydraulic brake is mounted on front wheel of the cranes and mechanical disc brake on rear. We make available these cranes for clients in different power specifications as per their requirements. 18XW Pick And Carry Cranes are used in construction sites and civil engineering projects for materials handling purposes.

The 18XW variant of Pick & Carry Cranes can lift 18 tones of weight with its hydraulic motor controlled hoist. This crane weighs 14500 kg material handling equipment adopts water cooled four cylinder based engine of Ashoke Leyland. With having 74.3 KW rated power at 2200 rpm, this crane is capable of achieving up to 46 km/h speed (without any load). The distance coverage capacity of its telescopic boom ranges between -1 degree up to +62 degree and its boom luffing duration is twenty seconds. The hoist section of this material lifting device has maximum 55 meters of line speed in every minute.


Product Design:

18XW crane can be accessed with standard parts like rear work lights, reflectors, work lights located at its rear and front sides, enclosed ROPS cabin furnished with fan, tool kit, wiper motor and gauges. Its 55 degree steering angle enables it to cover around 6.5 meters of radius around its external rear wheels. This crane's electrical section is powered by alternator, negative earth bar and 24 V batteries. The automatically adjustable parameters of the hook block of its winch section are meant for safety purpose. This crane is equipped with hoist safety brakes, hoist breakdown and audio based over hoisting protection arrangement. Besides these, the offered crane has advanced hydraulically and pneumatically controlled mechanism, hydraulic unit and ergonomic transmission section.



Technical Specifications:



Lifting capacity (free on wheels )


18 tons




Engine


Ashok Leyland ALHT4CTIC3/1(BS III CEV) 4 cylinder, Turbo charged and after cooled or suitable equivalent engine.




Rated Power





101 HP (74.3KW ) 2200 RPM





Transmission







Heavy duty (ZF) with 8 forward and 2 reverse speeds and high-low range selector.
12" Heavy duty, single, dry friction, wire woven clutch plate with diaphragm type pressure plate





Top speed





46 KMPH without load.





Steering





Hydraulically operated with 55°articulation on either side and turning radius of 6.5 mtrs (aproxx ) on outer rear wheels





Brakes





Pneumatically assisted hydraulic brakes are provided on front wheels and pneumatic brakes are provided on rear wheels

Parking break is pneumatically operated fail safe type, provided on rear wheels



Front and rear brakes are actuated through a single pedal





Hydraulic system







Intra vane type main pump.
Four spools control valve (heavy duty
Suction line has 100 mesh size strainer while return line is fitted with 25 micron full filter.
Two double acting lift cylinders, two double acting steering cylinder and one double acting extension cylinder





Electrical system





24V heavy duty battery with negative earth and suitable alternator




Telescopic boom

4 part boom, 3 part hydraulically actuated and synchronized and 4th part power extended having self adjusting hook block.




Boom luffting



Range



Time







-1° to + 62°



20 seconds.




Hoist

Winch is driven by hydraulic motor and fitted with self adjusting hook block employing 4 falls of 13 mm dia rope.




Front





50 mtrs/min.




Tyres



Front



Rear




12x20-18 PR



14x25-20 PR


Safety







Audio overload indicator
Hose failure protection
Audio over hoisting indication
Safety brakes on hoist
Self-adjusting hook block
Cylinder guards




Fluid Capacities



Engine



Fuel tank



Hydraulic tank



Gear box ZF



Auxiliary Gear box



Differential




10 ltrs



145 ltrs



180 ltrs



7 ltrs



3 ltrs



18 ltrs




Standard Equipment







ROPS fully enclosed wide view cabin
Front and rear work lights
Reflectors and rear view mirror
Tool kit
Front tyre protector
Wiper motor
Gauges

Water temperature
Engine oil pressure
RPM meter cum hour recorder
Air pressure




Optional Equipment




Fly jib
Spark arrestor
Safe load indicator/LMI
Over hoist hydraulic cutoff
Fire extinguisher
Beacon light
Steering wheel
Cain fan
3 part boom


Operating weight





14500 kgs