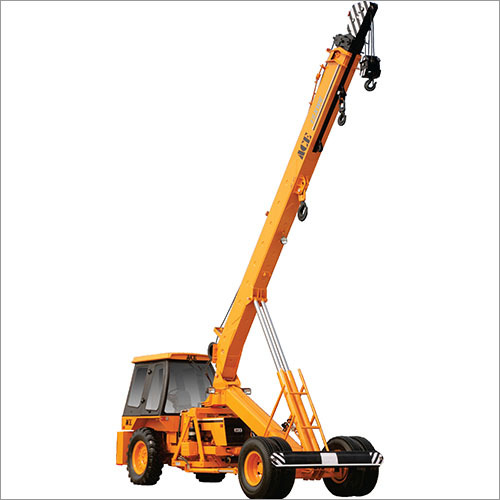 15XWE Pick And Carry Cranes
Product Code : 15XWE
Product Description
Our firm is enlisted as one of the renowned name in manufacturing and supplying 15XWE Pick And Carry Cranes. These cranes have bigger size front windscreen and re-routing of hoses provide much better front visibility. We use optimum quality materials and components to manufacture these cranes. These cranes are used in construction sites of building and bridges to lift and move heavy weight materials. 15XWE Pick And Carry Cranes are available in different power specifications for clients.
This specific version of Pick & Carry Cranes deserves praise for 15 tones of weight lifting capacity, 50 meters per minute line speed of hoist, 48 BHP rated power and 28 kmph maximum speed ( without load). This material lifting device adopts dry friction type heavy duty clutch that has diaphragm shaped pressure plate. It uses Simpson's four cylinder diesel engine with 8 ltrs of oil storage capacity, 45 ltrs fuel tank and 125 ltrs of hydraulic tank. The three part hydraulic boom of this crane has 12 seconds of telescopic duration and its coverage range is between 2 degree to +53 degree.

Design Details:
15 XWE model of crane weighs 1160 kg and it can be accessed with standard equipment like rotomold canopy furnished ROPS cabin with better front visibility factor, work lights, reflectors and tool kit. Instrument cluster and console of its steering section contributes to its user friendly operation. Its 400 mm ground clearance level and 700 mm stroke steering cylinder enables this crane to move on different ground surfaces. Mechanically adjustable hook block equipped winch of this crane has 50 meters of line speed. Advanced transmission section with reverse and forward speed selection options; intra vane or gear type pump controlled hydraulic unit; single pedal, hydraulic and pneumatic brakes,; battery and alternator equipped electrical system are the main features of this pick and Carry crane.