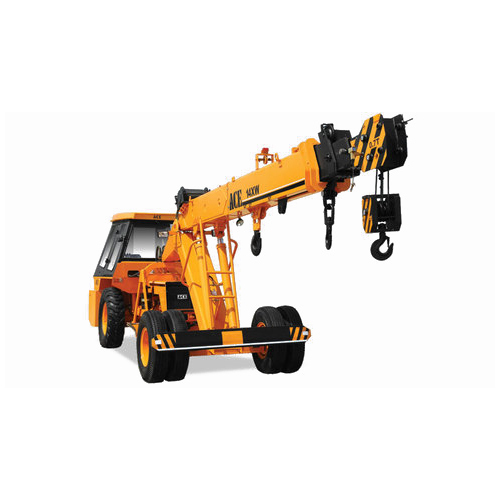 14XW Pick And Carry Cranes
Product Description
These cranes have heavy duty all welded rugged construction box type main frame with bent section having less weld joints. Our company has sculpted a remarkable place in the market as a reputed manufacturer and supplier of 14XW Pick And Carry Cranes. These cranes also have dry friction metallic clutch plate with diaphragm type pressure plate. 14XW Pick And Carry Cranes find application in construction and other civil engineering projects. We can customize these cranes for clients in different specifications.

Acknowledged for its 12000 kg operating weight, 14XW model of Pick & Carry Cranes has 36 KW rated power at 2200 moving speed. With having 14 tones of lifting capacity, this winching system can cover up to 28 km per hour without any load. This crane has fuel tank of 50 liters of storage capacity and 125 ltrs of hydraulic tank. It also contains hydraulic and pneumatic brakes, power steering section with 55 degree articulation function on any one side, three part hydraulic boom with 14 seconds of telescopic duration and hook block equipped hoist with 50 meters of line speed in every minute.

Design Details:
14XW version of offered crane has rotomolded canopy equipped ROPS cabin with wide angle front viewing facilities that include hose re-routing arrangement and front curved windscreen. Instrument cluster, 700 mm stroke steeling cylinders and console of this lifting device provide better steering control over rough or irregular ground. This crane can be driven over uneven surfaces as it has 400 mm ground clearance function. Apart from its heavy duty transmission and hydraulic sections, this crane contains battery and alternator equipped electrical unit, four front and two rear tires. As part of its standard accessories, this lifting system has work lights, rear view mirror, oil pressure and water temperature measurement gauges. This crane is protected against overload, over lifting and hoist malfunction.