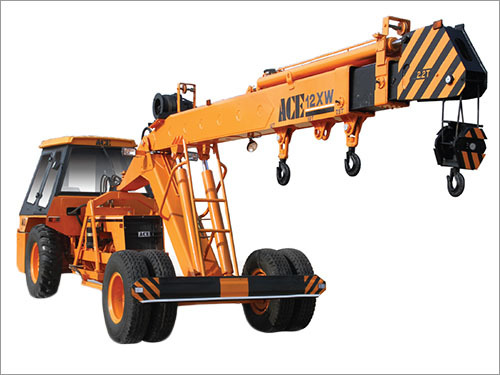 12 XW Pick And Carry Cranes
Product Description
In this field we are recognized amongst trusted manufacturers and suppliers of 12 XW Pick And Carry Cranes. These cranes come with lower fuel consumption and these are the most efficient hydraulic cranes on the earth with incredible productivity & enhanced performance. To manufacture these cranes, we use optimum quality materials at our sound production unit. Pneumatically assisted hydraulic brakes are provided on front wheels of the cranes and pneumatic brakes on rear wheels. These 12 XW Pick And Carry Cranes are available in different specifications for clients.

Designed with Simpson S433 diesel engine with four cylinder based structure, the 12Xw model of the offered range of crane uses hydraulic motor controlled lifting section. With having 48 BHP rated power, this material handling system is capable of elevating 12 tones of load and it can attain 50 meters of hoist line speed. This winching system can achieve 28 KMPH maximum speed sans taking load. The standard accessories available with this crane include gauges for measuring rotational speed, water temperature and oil pressure of engine; work lights; mirror and reflectors; tire protector and tool kit. Two part telescopic boom with hydraulic control function and six tires (rear and front) are some of its key parts.

Design Details: 12Xw crane adopts diaphragm equipped pressure plate for its dry friction type heavy duty single clutch. Its intra vane or gear pump regulated hydraulic system consists of control valve, ergonomic suction liner and five double acting cylinders. This device has single pedal controlled rear and front brakes; parking brake and pneumatically operated hydraulic brake. ROPS double driving cabin of this crane is designed with large windscreen with high front visibility level. The two part telescopic boom of this crane has adjustable hook block. Its steering section with 55 degree driving function and 6.5 meter of radius turning function has 700 mm hydraulic cylinders for its trouble free driving on uneven and sandy surfaces. The instrument cluster and console of its steering section have made it a user friendly system.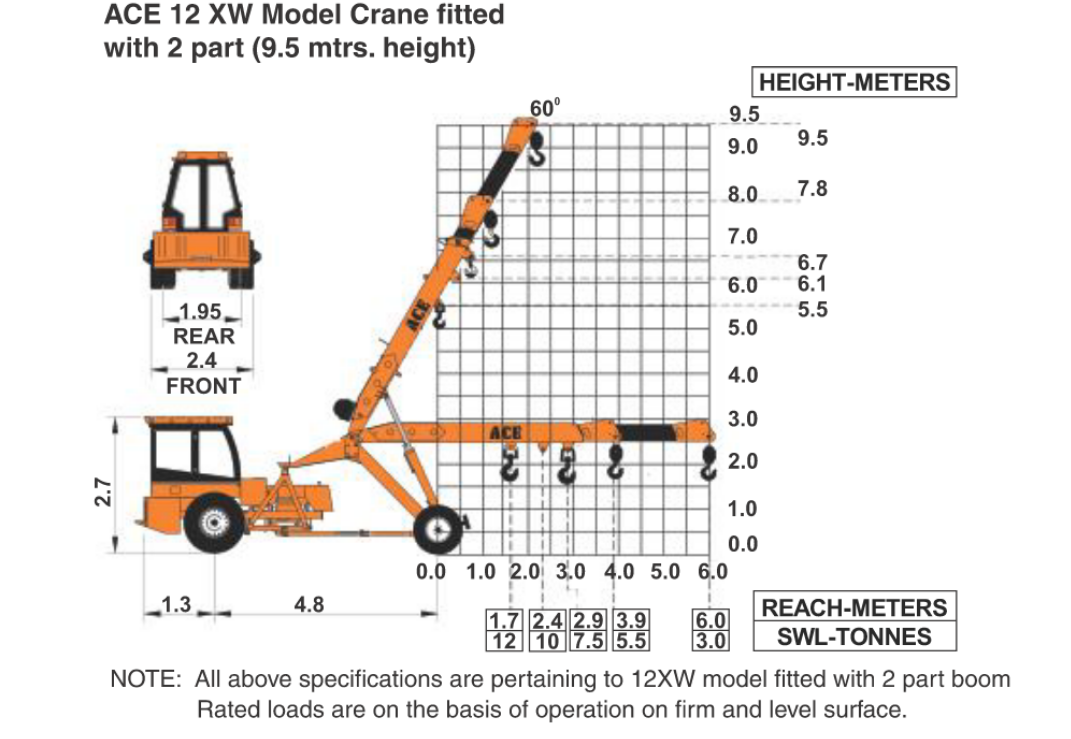 Specifications of 12 XW Pick And Carry Crane:


Lifting capacity
(free on wheels )




12 tons


Engine


Simpson`s S433(i) F1 (CEV BS III), 4 cylinder, water cooler disel engine or suitable equivalent engine




Rating Power





48 KMPH (36KW ) at 2200 RPmM.





Transmission





Heavy duty, sliding mesh with 6 forward and 2 reverse Speeds with high low range selector.





Cluth





Heavy duty, single, dry function, wire,woven clutch plate with diaphragm type pressure plate.





Top speed





28 KMPH without load.





Power steering





55°articulation through 2 hydraulic cylinders on either side and turning radius on 6.5 mtrs (aproox ) on outer edge of rear wheels.





Brakes





Pneumatically assisted hydraulic brakes. Front and rear breaks are actuated through a single pedal.



Parking break is provided.





Hydraulic system







Gear/ intra vane type main pump.
Four spools control valve.
Suction line has 100 mesh size strainer while return line is fitted with 25 micro full filter.
Two double acting lift cylinder, two double acting steering cylinder and one double acting extension cylinder




Electrical system

12V. Negative earth with 35Amp. Altenator and 75Amp hr. Battery




Telescopic boom



Telescoping time





Two part boom with hydraulically operated extension.



12 second.




Boom lufting



Range



Time






-5° to + 60°



21 seconds.




Hoist



Hoist speed





Winch is driven by hydraulic motor employing 4 falls of 13 mm dia rope ansd fitted with hook blick.



50 Mtrs./min. (line speed )




Tyres



Front



Rear



11x 20-16 PR (4 Nos)



13 x 24 -12 PR (4 Nos)









Safety







Audio overload indication.
House failure protection.
Audio over hosting indication.
Safety breaks on hoist.
Cylinder guards.




Fluid capacities



air cleaner



engine



fuel tank



hydraulic tank



transmission






0.73 Ltrs.



8 Ltrs.



50 Ltrs.



125 Ltrs.



37 Ltrs.




Standard equipment







ROPS fully enclosed wide view cabin with rotomould canopy.
Front tyre rpoctor.
Front and rear work lights.
Reflectors & rear view mirror
Tool kit.
Guages

water temperature.
Engine oil pressure .
Cpm meter cum hour recorder





Optional equipment





Fly jib.
Steering wheel.
Air brakes
Boom (height 11.25 mtrs or 12.9Mtrs)
spark arrester
City type double driver cabin.
Over hosting hydraulic cut of.
Safe load indicator / LMI.
Slotted boom.


Operating Weight





9250 kgs.(for 2 part)

9800 kgs. (for 3 part -11.25 mtrs)